We at Molecular Connections® hereby present you with latest edition of MCPaIRS™ Newsletter, where our flagship IP product – MCPaIRS™ provides you with an analytical display of latest inventions in INDIA.
New MCPaIRS™ – features to look for in this quarter:
Assignee normalization: More than 50000 assignee names have been manually normalized for enhanced patent search outputs.
Legal status has been updated for all grants and applications.
---
Quarterly trends in Indian Patent publications – Top applicants, inventors & IPC codes of the quarter
We offer you the most recent analysis of total patent publication trend in the third quarter of this year. Indian Patent Office (IPO) has published 7217 patent applications and 1310 granted patents between July-Sept, 2014.
Glancing at the publication trends, this season QUALCOMM INCORPORATED tops the applicants list by publishing more than 300 patents, inventions on acyclic and carboxylic compounds gain more attention among the IPC codes (C07C). You can quickly check the top
inventors
, most active
applicants
and the most popular
IPC codes
, in below sections. Click on '
My MCPaIRS
' to discover more interesting analysis of patent publication patterns for this quarter.

---
Interesting publications of the quarter
FRIDGE WITH FOOD HEATER
The Indian patent application (
3464/CHE/2014
) aims to use the heat energy wasted from the condenser COJI to heat the cold food which may be taken from the refrigerator.
ON LINE AUTO METER AND METER BOX
Patent application
618/CHE/2014
describes a software featuring cost Vs kilometer analysis of auto-rickshaws thereby providing a tamper-proof cost-display system for this widely used transport.
---
Sector Analysis
We bring to you a detailed sector analysis chart for IT and Digital data processing compiled from all the patents published for the past one year.
IT and Digital Data Processing-Sector Analysis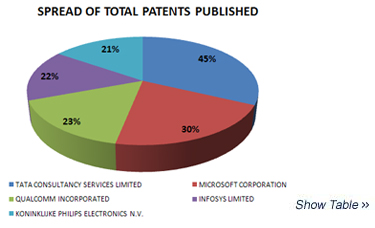 Classifications of patents filed by Top 5 companies based on IPC codes: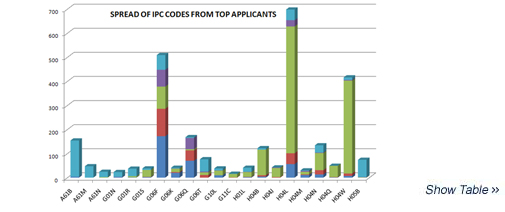 ---
Selected news from IPO
---
Events & webinar series
2014 Patent Information Fair & Conference
November 5th - 7th | Tokyo, Japan
---
Upcoming features in MCPaIRS™
Coming soon!! iPhone, iPad and Andrioid apps for MCPaIRS™