Welcome to this year's latest edition of the MCPaIRSTM Newsletter, where you can learn more about our flagship IP product – MCPaIRSTM and what's latest in IP in INDIA.
MCPaIRSTM additions this quarter:
Customization Galore: Now custo¬mize your queries with "Query Editor" to narrow and quicken your searches.
Cover all your bases: Researching an invention background? That's now made easy through the latest 'Family Search'.
Want to keep a close eye on the legal firms? That's simple, use the 'agent search' in MCPaIRSTM.
Are they there yet? Now refine results for structures and sequences.
---
Quarterly trends in Indian Patent publications – Top applicants, inventors & IPC codes
A quick "at a glance" overview of the companies that have been the most active in filing for Indian patents (last three months). There were 9271 published applications and 729 granted patents issued for previous quarter from Indian Patent Office (IPO).
You can also check the top
assignees
, most active
inventors
and the most popular
IPC codes
. Just a click on 'My MCPaIRS
TM
' analytics generates user friendly reports.

Source: The 9271 published applications from last three months
---
Interesting publications of the quarter
Ah! to save oneself from the rising fuel costs!! :
The Indian patent application (
1491/CHE/2013
) talks about an eco-friendly auto electric jet vehicle with self-recharging system.
If you can buy your colas and chips through vending machines, why not your monthly groceries!?
This publication (
418/CHE/2012
) introduces the concept of 24/7 automated vending of your daily requirements like Rice, Lentils, Kerosene, Sugar etc. This will give the "corner grocery shop" a whole different meaning!
---
Select news from IPO
New IPAB website- Intellectual Property Appellate Board launches a new website (http://www.ipabindia.in)
IPO published draft guidelines for Computer Related Inventions (CRI) - The Indian Patent Office (IPO) has released draft "Guidelines for Examination of Computer Related Inventions (CRI)"
Roche's Herceptin Indian Patent ceased- Roche Holding AG misses the deadline to renew and loses the patent for Herceptin
---
Customer Comment
"MCPaIRS
TM
is a well thought out and a much needed Indian Patent Database. It has a well-designed user interface, easy and useful search options. The legal status update is very helpful to quickly glean the status of a patent life."
-IP Manager of a leading Indian Pharma Company
---
Events & webinar series
Do find us at the
ICIC
Conference on 16th October 2013
---
Upcoming features in MCPaIRSTM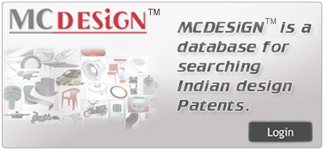 Tired of figuring out the names in patents from different countries? We understand how you feel with trying to decipher the first name from the last!
To standardize the details included within a patent, MCPaIRS
TM
will soon have all the assignee details normalized.
LAUNCHING SOON:
The much awaited Indian Design Database – MCDESiGN
TM
a more enriched search database of Indian Design Patents. DESIGN YOUR FUTURE WITH US.