Welcome to this year's latest edition of the MCPaIRS™ Newsletter, where you can learn more about our flagship IP product – MCPaIRS™ and what's latest in IP in INDIA.
MCPaIRS™ – feature additions this quarter:
Thumbnail Image view : Thumbnail Image view in Result display page for each record
---
Quarterly trends in Indian Patent publications – Top applicants, Inventors & IPC codes of the quarter
A quick "at a glance" overview of the companies that have been the most active in filing for Indian patents (last three months). There were 4984 published applications and 1476 granted patents issued for previous quarter from Indian Patent Office (IPO).
You can also quickly check the top
assignees
, most active
inventors
and the most popular
IPC codes
, Just a click on My MCPaIRS
™
analytics generates user friendly reports.

---
Interesting publications of the quarter
ELECTRICITY PRODUCTION FROM THE MOTION OF TREES
The Indian patent application (
1596/CHE/2014
) talks about an eco-friendly way to produce electricity from the oscillation of the trees using coconut trees.
THE TRAIN DOOR GUARD
Patent application (
1258/CHE/2013
) describes train door guard mechanism to prevent the accidental closing of an opened train door due to inadvertent exertion of force in the opposite direction.
---
Sector Analysis
Here we analyze and determine the top 5 companies over the last 1 year in a given sector and further break down to areas these companies have chosen to focus on:
Automobile Sector Analysis from Jun 2013- Jun 2014:
Classifications of patents filed by Top 5 companies based on IPC codes: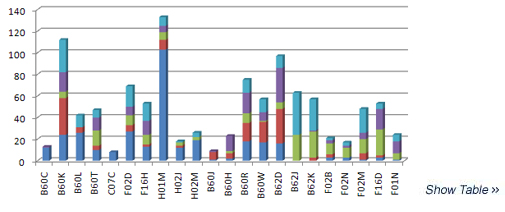 For more such information write to us at :
ipservices@molecularconnections.com
---
Selected news from IPO
CGPDTM launches a Stock and Flow based Dynamic Trademark Utility which will provide the applicants/stakeholders with the facility to view the Trade marks under different stocks and the flow of TM applications among the various stocks.


---
Events & webinar series
ICIC 2014 - The Meeting
October 12th - 15th | Heidelberg, Germany
---
Upcoming features in MCPaIRS™
Coming soon!! Agent names normalized and Agent details.