| | |
| --- | --- |
| Greetings !!! Molecular Connections introduces you to the newest edition of MCPaIRSTM quarterly newsletter. We bring to you the in-depth analysis of the patent application and grant publication trends along with some of the sneak-peeks into the most interesting patents published in last three months. | |
Quarterly trends in Indian Patent publications – Top applicants, inventors & IPC codes of the quarter
Powered by MCPaIRS
TM
This issue focuses on numerous factual details of top inventors and applicants – including new and the top-runners, along with patent categories with maximum publications. This issue also contains a special report on Agricultural chemicals. Between April and June 2016, Indian Patent Office (IPO) has published around 7863 patent applications and granted 1247 patents.

QUALCOMM INCORPORATED tops the applicants list by publishing more than 240 patents and inventions on Packaging materials using vibration technology (B65B 1/22) have gained more focus. You can quickly check the other top assignees, most active inventors and the most popular IPC codes in below sections. Click on 'My MCPaIRS' to discover more interesting analysis of patent publication patterns for this quarter.
Interesting publications of the quarter
A METHOD FOR PRESERVATION OF SALAD BY INCORPORATING CHITOSAN NANOPARTICLES:
The Indian patent application (201621007080) relates to the unique food preservation method involving chitosan nanoparticles. Given that the fresh salads are more prone to the growth of pathogenic microbes; this patent claims to establish a chitosan biopolymer derived from chitin, second only to cellulose, the most abundant polysaccharide, to be an efficient preservative when used alone or in a solution of weak acids.

ATTRIBUTES DETECTION FOR ALLOCATION OF RESOURCES WITH STRESS DETECTION FROM SPEECH:
This patent application 3228/MUM/2014 describes various methods of detecting complex speech related to stress. Using various algorithms such as Hanning Window Technique, up to 86% efficiency of stress-based speech recognition was obtained.
Powered by MCPaIRS
TM
Sector Analysis
We bring to you a detailed sector analysis chart for Agricultural chemical industry patents compiled from all the patents published in the past one year.
Pharmaceutical Industry Patents-Sector Analysis: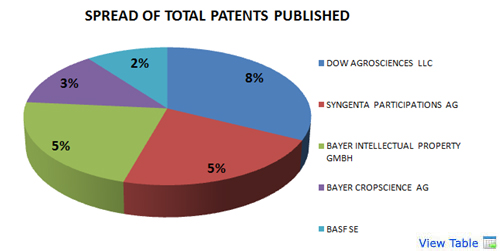 Classifications of patents filed by Top 5 companies based on IPC codes: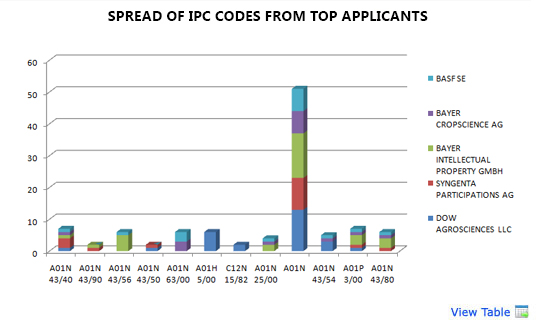 Innovative Project of the month
Self – Diagnostic Medical Devices (SDMD)
Trends and key players in SDMD domain
Molecular Connections' Approach

Subject experts at Molecular Connections devised the keyword based search strategy along with additional searches like assignee, citation and semantic searches for patent and scientific literature searches. These searches were performed on various free and commercial databases to shortlist relevant patents and non-patent literature in the technology domain.


IP Landscape analysis was carried out to identify the patterns and trends of patenting activities based on the key commercial/institutional innovators, their collaborations, the geography of the origin of their innovations (priority countries/offices of first filing), the geographical extent of protection they seek (offices of second filing), the patent activity over time, and patent distribution by category of technology.


Various technology trends like innovation, patent distribution among key players, research institutes/universities, and countries were derived. Along with these, few innovative and prospective technologies which have the potential to be game changers for business over the next decade were also provided.

Outcome
Molecular Connections presented technology insights along with key global players and leaders in the domain. The key players were probed further to find out patenting activities in the technology area and their geographical presence. The list of KoLs, potential institutes/universities were also provided.
This edifying report by Molecular Connections was shortlisted by WIPO for highlighting innovative technologies in Self – Diagnostic Medical Devices, the current key players vs. opportunities untapped.
(For a copy of the report contact | krishna@molecularconnections.com)
Select news from IPO
Patents (Amendment) Rules 2016, have come into force w.e.f. 16 May 2016.
English | Hindi | Public notice (16 May, 2016)

Date for Enrolment as Facilitators for Startups in Patents and Trade Marks extended up to 10-07- 2016.
Form for Enrolment - Patents | Trade Marks (24 June, 2016)
Know more about MCPaIRS™
http://www.mcpairs.com
Upcoming Features in MCPaIRS™
| | |
| --- | --- |
| Coming soon!! iPhone, iPad and Android Applications for MCPaIRS™ | |

This email was sent from Molecular Connections Pvt. Ltd. on behalf of the MCPaIRSTM team
© 2016 Molecular Connections (P) Ltd. krishna.bd@molecularconnections.com All rights reserved. www.molecularconnections.com