| | |
| --- | --- |
| Molecular Connections welcomes you to the newest newsletter released from its proprietary product MCPaIRSTM for October 2015, for the last quarter. In this issue, we aim to provide you the thoroughly interpreted patent data along with some interesting new patents published for this quarter. | |
Features and updates to look for in this quarter:
• MCPaIRSTM to include IPC = CPC Concordance - Coming Soon
• New website of MCPaIRSTM launched(visit www.mcpairs.com)
• New website for Molecular Connections IP Services launched(visit www.mcresearch.co.in)
Interesting Trends in Indian Patent Publications - Q3 - 2015
Powered by MCPaIRS
TM
MCPaIRS™ brings to you the latest and the most recent analysis on the Indian patent publication trends along with a special report on Automobile industry patent analysis. Indian Patent Office (IPO) has published around 9959 patent applications and granted 1627 patents between Jul-Sep, 2015.

On estimating the publication trends, we find that, this season QUALCOMM INCORPORATED tops the applicants list by publishing more than 300 patents and inventions on 'PREPARATIONS FOR MEDICAL, DENTAL, OR TOILET PURPOSES' (A61K) have gained more focus. You can quickly check the other top assignees, most active inventors and the most popular IPC codes in below sections. Click on
'My MCPaIRSTM ' to discover more interesting analysis of patent publication patterns for this quarter.
Interesting publications of the quarter
Gold chain theft detector:
The Indian patent application (3671/CHE/2015) relates to a device with two important electronic transceiver sections one of which can be embedded into the gold chain and the other attached to a bag carried by the owner. An additional alarm system also is implemented in highly restricted areas such as research labs, industries, military bases, etc. These units of the device can act together in case of thefts and help in tracing the thieves. Furthermore, the device also provides safety advices to the owners to safeguard their ornaments.

Samay - Sancharak: Braille enabled wrist watch and cell-phone for blind:
This patent application 2839/MUM/2015 describes a wearable watch design embedded in a cell phone and other digital devices for blind persons. The device is Braille enabled and can be demonstrated with use of buzzer, QWERTY keyboard, ICE calling, alarm facility, GPS location tracking, battery level indication, network level indication etc. with Braille language support.
Powered by MCPaIRS
TM
Sector Analysis
We bring to you a detailed sector analysis chart for Automobile industry patents compiled from all the patents published in the past one year.
Automobile Industry Patents-Sector Analysis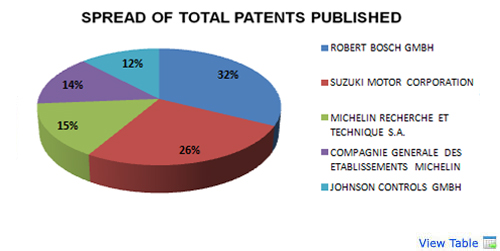 Classifications of patents filed by Top 5 companies based on IPC codes: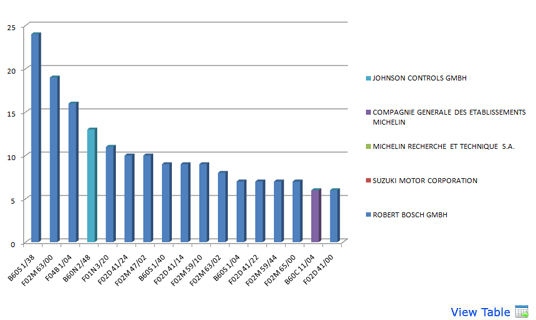 Innovative Project of the month
Paperboard Packaging Materials
Trend and Key Players analysis for an MNC in U.S.A.
Molecular Connections's Approach

Subject experts at Molecular Connections analysed patents from almost 100+ companies in the Paperboard packaging domain in last 5 years.IPC and keyword searches were performed on various free and commercial databases to shortlist relevant patents/companies in the technology domain.



White space analysis was carried out to find out the emerging technologies, innovation shift in last few years, gaps where further research can be carried out in the packaging domain. Key players are shortlisted and profiled based on the manufacturer, supplier, technology R&D, and commercial categories.



Licensing deals and Litigation cases are identified in the space and presented with potential opportunity and threat to the client.

Outcome
Technology insights along with SWOT analysis of key players were identified and presented to the client. Potential patents were shortlisted based on various bibliographic and technical parameters for the licensing opportunity. Molecular Connections also provided technical recommendations on futuristic technology.

- - - - - - -

Feedback: "We are very pleased by the quality of work & inputs on licensing opportunities provided by Molecular Connections professionals. The technology slides were helpful for our R&D team to prioritize & focus on research that's most relevant to us. Appreciate the timely delivery & thanks for your support".
Select news from IPO
The Office of the CGPDTM strides to the next level of knowledge dissemination by launching a Twitter service for the stakeholders. On this occasion, the CGPDTM commented, "I hope this Twitter account will act as an easy tool to communicate and stay connected to the happenings in the Office through the exchange of quick, frequent messages. We hope more and more youthful inventors get associated and contribute to become part of this IP ecosystem". You can reach us on @IPO_India or @IndianIPO or @CGPDTM (18 August, 2015)

The CGPDTM announces that the Designs wing of Indian Patent Office has been awarded the ISO 9001: 2008 on 13/04/2015 with certificate no. FM634081 by BSI India for the protection and maintenance of Industrial Design through Registration relating to article of manufacture & any substance under the provisions of The Designs Act, 2000 (01 July, 2015)
Know more about MCPaIRS™ at Tokyo Patent Fair
Contact : Mr.Go Shiraoka, NGB Corporation, 4th - 6th November 2015
Upcoming Features in MCPaIRS™
| | |
| --- | --- |
| Coming soon!! iPhone, iPad and Andrioid Applications for MCPaIRS™ | |

This email was sent from Molecular Connections Pvt. Ltd. on behalf of the MCPaIRSTM team
© 2015 Molecular Connections (P) Ltd. krishna.bd@molecularconnections.com All rights reserved. www.molecularconnections.com