Stay Tuned !!!
We are going to have a
"NEW ONE"
A BRAND NEW website for MCPaIRS
™
!!

| | |
| --- | --- |
| Molecular Connections is thrilled to introduce you to the most recent and the updated patents from our MCPaIRS™ database. In this quarter, we intend to present you the completely analyzed patent data in most ardent way possible. | |
Interesting Publications of the Quarter
SAFETY HELMET WITH DIRECTION INDICATORS
The Indian patent application (3064/DEL/2013) relates to a direction embedded safety helmets designed for motorcycle, bicycle or any other two/three/four wheeler vehicle riders. The system is said to employ Intuitive Balance Transfer System Technology to display the direction in which the rider is going to turn.
WATER FILLED BABY MATTRESS WITH INBUILT HEATER
This patent application (4844/CHE/2013) describes a baby mattress intended to be used as a treatment for hypothermia in new born babies and infants. The technology uses slow heat transfer to babies with very little heat loss, which acts as an added advantage over existing baby warmers like radiant warmers, incubators etc.
Quarterly Trends in Indian Patent Publications – Top Applicants, Inventors & IPC Codes of the quarter
Powered by MCPaIRS
TM
With the successful completion of six months of 2015, MCPaIRS™ is delighted to deliver to you the latest analysis on the Indian patent publication trends along with a special report on Agricultural patent analysis in this quarter. Indian Patent Office (IPO) has published 10396 patent applications and granted 1043 patents between Apr-Jun, 2015.

On analyzing the publication trends, we find that, this season QUALCOMM INCORPORATED tops the applicants list by publishing more than 140 patents and inventions on 'ELECTRIC DIGITAL DATA PROCESSING' (G06F) have gained attention. You can quickly check the other top assignees, most active inventors and the most popular IPC codes in below sections. Click on 'My MCPaIRS' to discover more interesting analysis of patent publication patterns for this quarter.
Powered by MCPaIRS
TM
Sector Analysis
We bring to you a detailed sector analysis chart for Agricultural patents compiled from all the patents published in the past one year.
Agricultural Patents-Sector Analysis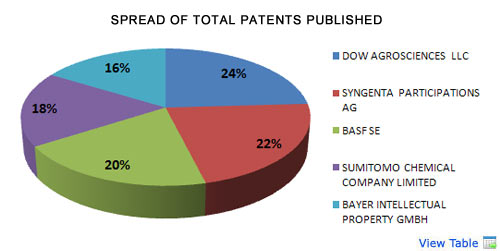 Classifications of patents filed by Top 5 companies based on IPC codes: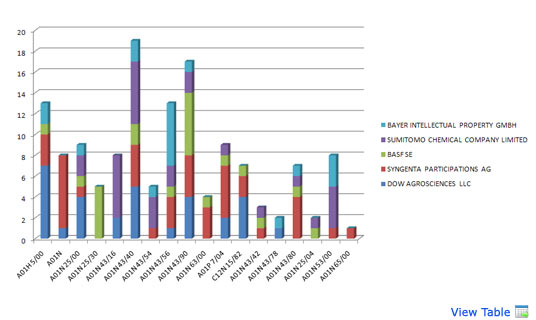 Innovative Project of the month
Landscape Analysis for Digital Payment Service provider

Trend and Market analysis for of the competitor's patent portfolio in E-payment domain.
Molecular Connections's Approach

Subject experts at Molecular Connections analysed patents from almost 50 companies in the digital payment domain. The search was performed on free and commercial databases to shortlist relevant products/patents/companies in the technology domain.





Upcoming technology and white space analysis in this domain were carried out and delivered according to the client expectation.





Various technology trends like innovation, patent distribution of some key players, were derived and presented to provide an overview of the domain.

Outcome

Molecular Connections shared an in depth analysis report including

As a value add to our client key activity report on litigation and licensing in this domain were presented too.

- - - - - - -

Feedback: "Deliverables and insights from Molecular Connections were amazing. Gave us a clear direction to choose in our Research and Development process in Digital Payment Technology.
The list of new technologies that was given to us un-seeked, was very thoughtful of the team and is highly appreciated. Kudos...Team Molecular Connections!!!"


(Head Intellectual Property)
Select news from IPO
CGPDTM invites applications for JPO / IPR Training Course. Applications are required to be sent to the following address before the expiry of the deadline and should be superscribed 'JPO / IPR Training Course': Office of the Controller General of Patents, Designs and Trade Marks Boudhik Sampada Bhawan, S M Road, Antop Hill, Mumbai-400037 (20 April, 2015)

CGPDTM launches "KIDS Nook" taking IP awareness to the next generation with the release of Comics on General Intellectual Property, Patents, Designs & Trade Marks (11 March, 2015)

Office of CGPDTM expands the paperless environment by introducing electronic filing system for the new applications for registration of Designs | (09 March, 2015)
Upcoming Features in MCPaIRS™
| | |
| --- | --- |
| Coming soon!! iPhone, iPad and Andrioid Applications for MCPaIRS™ | |

This email was sent from Molecular Connections Pvt. Ltd. on behalf of the MCPaIRSTM team
© 2015 Molecular Connections (P) Ltd. krishna.bd@molecularconnections.com All rights reserved. www.molecularconnections.com