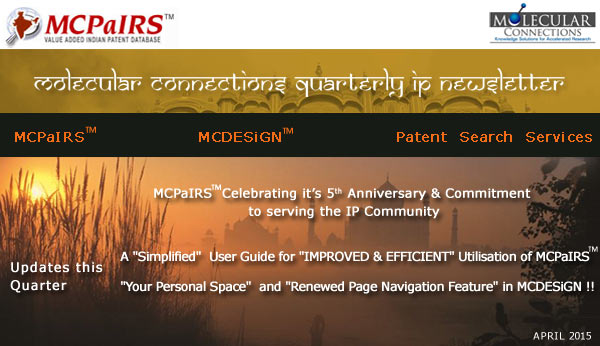 | | |
| --- | --- |
| Molecular Connections is once again delighted to provide you the most recent and the updated patents from our MCPaIRS™ database. It is our earnest effort to present to you the completely analyzed patents with top inventors and applicants every quarter. Hope you find this interesting reading!! | |
Interesting Publications of the Quarter
System method and device for measuring a gas in the stomach of a mammal
The Indian patent application (677/DELNP/2014) relates to a gas measurement device embedded in the mammal's stomach for measurement of gas produced using a gas sensor. This device can generate periodic outputs related to the gas produced by the mammal.
Women security system
This patent application (2576/DEL/2013) describes an invention of a SECURITY BRACELET which retrieves the mobile numbers in its surrounding areas during an attack on women. The device is said to get activated on applying a force greater than the threshold force. Furthermore, the device can be unlocked by a unique voice recognition system and also has a black box system to record and safeguard the evidence.
Quarterly trends in Indian Patent publications – Top Applicants, Inventors & IPC Codes of the quarter
Powered by MCPaIRS
TM
MCPaIRS™ brings to you the latest analysis on the Indian patent publication trends along with a special report on cosmetics and chemical patent analysis. Indian Patent Office (IPO) has published 9738 patent applications and granted 1615 patents between Jan-Mar, 2015.

Based on the publication trends analysis, ROBERT BOSCH GMBH tops the applicants list by publishing more than 130 patents and inventions on 'ELECTRIC DIGITAL DATA PROCESSING' (G06F) have gained attention. You can quickly check the top assignees, most active inventors and the most popular IPC codes in below sections. Registered users can use 'My MCPaIRS' personalised page to discover more interesting patent publication patterns for this quarter.
Powered by MCPaIRS
TM
Sector Analysis
We bring to you a detailed sector analysis chart for Chemicals and Cosmetic industries compiled from all the patents published in the past one year.
TOP IPC Codes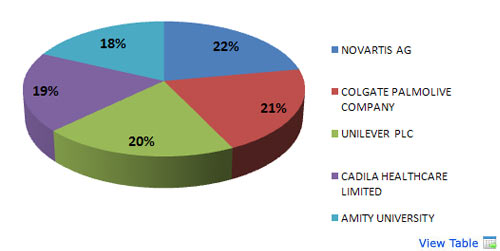 Classifications of patents filed by Top 5 companies based on IPC codes: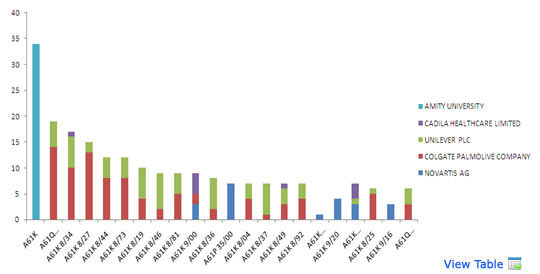 Innovative Project of the month
SWOT Analysis for Patent Asset Management Company
An interesting project detailing SWOT and Trend analysis for a set of patents in "Interactive Messaging System" domain.
Molecular Connections's Approach
Subject experts at Molecular Connections analysed a set of patents provided by the client on the interactive messaging domain. The search was performed on free and commercial databases to shortlist relevant products, patents and companies in the technology domain.

SWOT analysis was carried out and delivered according to the client expectation.

Various technology trends like innovation, patent distribution of some key players, were derived and presented to provide an overview of the domain.
Outcome
Molecular Connections presented the insights along with executive summary for strength, weakness, opportunity, and threat of the domain.

- - - - - - -

Feedback: "Molecular Connections recommendations were helpful to the client in assessing the patent valuation for licensing service. The client also approached MC for three other domains for similar kind of analysis."
Select news from IPO
Controller General of Patents, Designs & Trade Marks publishes DRAFT GUIDELINES FOR SEARCH AND EXAMINATION OF PATENT APPLICATIONS
CGPDTM invites applications for National Intellectual Property Award 2015 for "Best facilitation of Registration of GI and Promotion of registered GI in the country" Brochure | Application (02 March, 2015)
Office of CGPDTM expands the paperless environment by introducing electronic filing system for the new applications for registration of Designs
New Features

Recent Queries
Saved Queries
Merge Queries
Settings Query based Alerts
Personal Space for Results Viewing

- - - - - - - - - - - - - - - - - -

- - - - - - - - - - - - - - - - - - - -

Pagination
Use the feature to navigate across Result view pages seamlessly !!
Do look up "MY MCDESiGN" page in the database

This email was sent from Molecular Connections Pvt. Ltd. on behalf of the MCPaIRSTM team
© 2015 Molecular Connections (P) Ltd. krishna.bd@molecularconnections.com All rights reserved. www.molecularconnections.com