| | |
| --- | --- |
| Molecular Connections welcomes you to it's first quarter - 2016, newsletter released from its proprietary product - MCPaIRSTM . We, at Molecular Connections are delighted to present some expert analyses on patent applications, top inventors and some of the most interesting patents published over the last three months. | |
Quarterly trends in Indian Patent publications – Top applicants, inventors & IPC codes of the quarter
Powered by MCPaIRS
TM
This issue is released with a special report on Pharmaceutical industries – their patenting trends and competitors involved in invention race, along with the inventors and applicants topping the chart in this quarter. Between January and March 2016, Indian Patent Office (IPO) has published around 6849 patent applications and granted 1416 patents.

Based on the detailed patent analysis, we found that QUALCOMM INCORPORATED tops the applicants list by publishing more than 170 patents and inventions on 'ACYCLIC OR CARBOCYCLIC COMPOUNDS'(C07C) have gained more focus. You can quickly check the other top assignees, most active inventors and the most popular IPC codes in below sections. Click on 'My MCPaIRS' to discover more interesting analysis of patent publication patterns for this quarter.
Interesting publications of the quarter
A BRAIN TEMPERATURE TUNNEL AREA THERMO-SCANNER:
The Indian patent application (2216/KOLNP/2015) relates to an invention in medical devices industry wherein the structures for supporting the positioning of sensors are described. The recorded signals are transmitted by wireless transmission such as by electromagnetic waves, radio waves, infrared, and sound waves among others to a remote station.

SKIN-FRIENDLY ADHESIVES FROM POLYALKYLETHER-BASED PHOTOINITIATORS:
This patent application 11105/DELNP/2012 describes a novel method of producing a skin-friendly
pressure-sensitive adhesive comprising a polymeric photoinitiator.
Powered by MCPaIRS
TM
Sector Analysis
We bring to you a detailed sector analysis chart for Pharmaceutical industry patents compiled from all the patents published in the past one year.
Pharmaceutical Industry Patents-Sector Analysis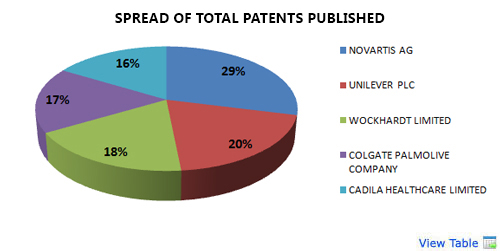 Classifications of patents filed by Top 5 companies based on IPC codes: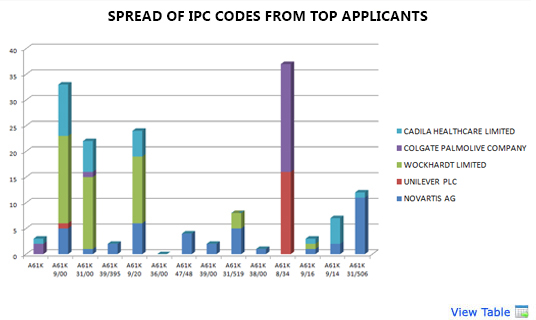 Innovative Project of the month
Pesticides with new mode of action
Novel chemical scaffold showing pesticidal activity
Molecular Connections's Approach

Subject experts at Molecular Connections analysed patents from almost 100+ chemical classes in the pesticides domain covering insecticides, fungicides, and herbicides filed in the last 3 years in the US/EP/JP jurisdiction. IPC and keyword searches were performed on various free and commercial databases to shortlist relevant patents in the technology domain.



IP Landscape analysis was carried out to find the chemical classes along with subgroups present in the scaffold showing pesticidal activity, product patents covering the novel chemical scaffold in last few years and gaps at the subgroup level where further research can be carried out in the pesticidal activity domain. Key players were shortlisted and profiled based on the filing activity covering the chemical class and pesticidal action.


The chemical space is analysed for the client for the potential R&D activity.

Outcome
Molecular Connections presented technology insights along with chemical space analysis of key chemical classes. The research area activity of the key players were elucidated form this analysis.

- - - - - - -

Feedback: "We appreciate Molecular Connections for their efforts in presenting us with such valuable insights and analysis. Thank you for your service".
Select news from IPO
Electronic Transfer Facility for PCT Applications to be operationalised from 01-04-2016 Public Notice |
Flow-Chart (10 March, 2016)

The office of the CGPDTM, in collaboration with Delhi State Legal Service Authority (DSLSA) initiates a process of Mediation / Conciliation in contested matters of the TMR Delhi. Public Notice | Draft Consent Form for Mediation (19 February, 2016)

The Government of India launches "Scheme for Facilitating Start-UPs Intellectual Property Protection (SIPP)" to promote awareness and encourage IPR protection amongst Start-Ups. Scheme for
Start-Ups - PDF (18 January, 2016).
Know more about MCPaIRS™
http://www.mcpairs.com
Upcoming Features in MCPaIRS™
| | |
| --- | --- |
| Coming soon!! iPhone, iPad and Android Applications for MCPaIRS™ | |

This email was sent from Molecular Connections Pvt. Ltd. on behalf of the MCPaIRSTM team
© 2016 Molecular Connections (P) Ltd. krishna.bd@molecularconnections.com All rights reserved. www.molecularconnections.com