| | |
| --- | --- |
| Greetings to all the MCPaIRSTM subscribers. In this last quarter of 2015, Molecular Connections invites you to its latest newsletter released from MCPaIRSTM – a proprietary of Molecular Connections for December 2015. This issue intends to furnish you the detailed analysis of patent data along with some interesting new patents published for this quarter. | |
Updates to look for in this quarter:
• File Wrapper - All the documents pertaining to an application to be accessible as a
customized service - Coming Soon
• MCPaIRSTM now includes IPC = CPC Concordance
• New website for Molecular Connections IP Services launched(visit www.mcresearch.co.in)
Quarterly trends in Indian Patent publications – Top applicants, inventors & IPC codes of the quarter
Powered by MCPaIRS
TM
In this last quarter of 2015, MCPaIRSTM brings to you the current and the most recent analysis on the Indian patent publication trends along with a special report on Electronics and Power industry patent analysis. In this quarter, Indian Patent Office (IPO) has published around 9959 patent applications and granted 1627 patents between Oct-Dec, 2015.

On estimating the publication trends, we find that, this season TELEFONAKTIEBOLAGET LM ERICSSON (PUBL) tops the applicants list by publishing more than 200 patents and inventions on 'Medicinal preparations characterised by special physical form' (A61K 9/00) have gained more focus. You can quickly check the other top assignees, most active inventors and the most popular IPC codes in below sections. Click on 'My MCPaIRS' to discover more interesting analysis of patent publication patterns for this quarter.
Interesting publications of the quarter
Eco-friendly process to run vehicle using wind force water pressure and manual pedal:
The Indian patent application (3739/MUM/2015) relates to an invention in automobile / mechanical engineering field. The invention is known to have a water tank hydro turbine clutch gear system equipped with a manual medal system and wind turbine clutch gear system.

Drinking bottle with multiple compartments and replaceable ampoules:
This patent application 6633/DELNP/2012 describes a drinking bottle with a liquid reservoir and a replaceable substrate ampoule. The invention novelizes to bring along several substrate ampoules with various contents that can be mixed with liquid from the liquid reservoir.
Powered by MCPaIRS
TM
Sector Analysis
We bring to you a detailed sector analysis chart for Electronics and Power industry patents compiled from all the patents published in the past one year.
Electronics and Power Industry Patents - Sector Analysis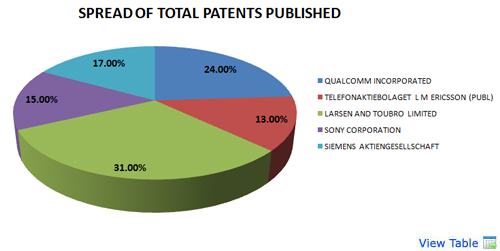 Classifications of patents filed by Top 5 companies based on IPC codes: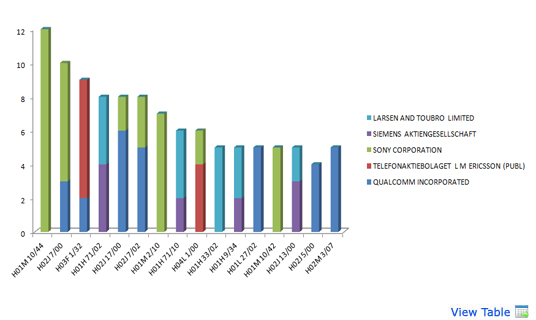 Innovative Project of the month
Precognitive analysis on Textile Care Industry
Molecular Connections's Approach

Precognitive analysis on textile and fabric care domain was performed to predict the potential game changing/disruptive technologies in next 10 to 15 years. The research was carried out on three segments – textile/fabric, washing machines and detergents to shortlist futuristic technology concepts, potential market players, and research universities in the domain. Subject experts at MC Research analyzed almost 100+ companies/universities, 1000+ research papers, patents, products, market news/forecast, and blogs etc.



Various technology trends like innovation, patent distribution among key players, research institutes/universities, and countries were derived on textile, washing machine and detergent segments. A list of 'key opinion leader' is prepared in this space as value addition to the search.




Outcome
Molecular Connections presented the technology trend, market analysis and precognitive analysis on potential technologies of three defined segments. The list of KoLs, potential institutes/universities and emerging players were also provided.

- - - - - - -

Feedback: "Molecular Connections' deliverables were helpful to the client to take informed decision on research direction in textile care domain. The client liked few ideas in each segment for further investigations".
Select news from IPO
Sealed Quotations are invited for supply, installation, testing and commissioning of online parallelable, digital Uninterruptible Power System (UPS) having the capacity 120 KVA and battery back-up of 60 minutes with buy-Back offer (23 December, 2015)

The E-filing system of Patent Applications shall be available till 6:00 PM IST on 31st December 2015 and shall resume on 1st January 2016 at 10:00 AM, due to internal maintenance of server (31 December, 2015)
Know more about MCPaIRS™
http://www.mcpairs.com
Upcoming Features in MCPaIRS™
| | |
| --- | --- |
| Coming soon!! iPhone, iPad and Andrioid Applications for MCPaIRS™ | |

This email was sent from Molecular Connections Pvt. Ltd. on behalf of the MCPaIRSTM team
© 2015 Molecular Connections (P) Ltd. krishna.bd@molecularconnections.com All rights reserved. www.molecularconnections.com